Design (click on thumbnails to view larger images)
---
Seating Placecard
Ballpark theme wedding
---
Taquería Auténtica
Responsive Site Design
---
Elite Construction Corporation
Responsive Site Design
---
JN Electric
Logo Design
JN Electric is an up-and-coming sole proprietor electrician looking to begin a local marketing and brand awareness campaign. In a small geographic area with a number of electrical services available, the owner was looking to make quick and memorable impact with his target customer base.
The logo is simple, clean, direct, and memorable.
---
CJM Electric
Website Design
CJM Electric is an established local electrician service company looking to create an online presence with a website and basic SEO.
This website design is the first step in beginning CJM's online marketing venture. Site development is in progress.
---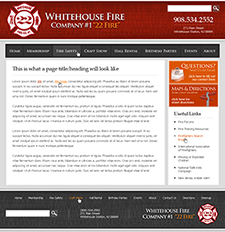 Whitehouse Fire Company – Website Design
The Whitehouse Fire Company's website is an ongoing project. The site previously was skinned with a minimal, purchased WordPress theme. I put together this design, as well as built out the fully functional WordPress theme.
The intention of the design is to look clean and professional, be easy to navigate, but still give off a more masculine vibe.
---